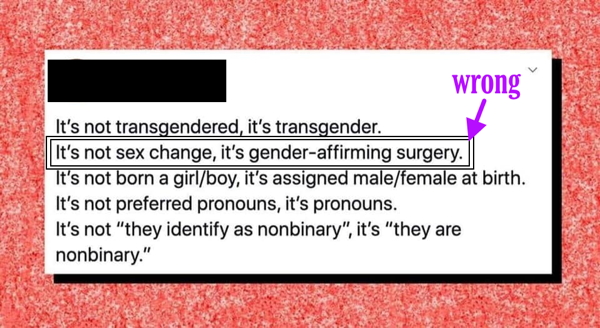 Femininity and womanhood are gender identity terms, but more fundamentally than that, they are socially shared
notions
, and what they are notions
about
, historically speaking, are female people.
I have male parts (or at least the parts that led my mom's obstetrician to put "male" on my birth certificate—and for the record
I
call them male parts
myself
). But I'm definitely a femme, and I'm happy to be living in 2020 where gender identity has been somewhat split off from physical bodily architecture.
But it doesn't avail us anything to pretend that the feminine gender identities don't have diddly squat to do with physical femaleness. The socially shared concepts and roles, and the accompanying notions about a feminine person's beliefs and attitudes and priorities, personality and behavioral nuances and tastes and so on, didn't originate independently and then somehow get ideologically and artificially
attached
to the female physical morphology. The notions were originally notions
about
female people. They may not have correctly or adequately described female people in general, and they certainly did not correctly or adequatly describe
all
female people; and because this has long been a patriarchy, this human society of ours, there may indeed have been ideological content stirred into the pot along with the generalizations. But the gender identity is social; it exists as a bundle of shared concepts, and the subject matter that the concepts were originally and historically concepts
about
were people who had vaginas and ovaries and fallopian tubes, the biological females of our species.
Now, even as increasing numbers of us find personal validation in gender identities that don't correspond to the physical morphology to which those identities were originally and historically attached, some of that past still haunts us.
You'll recall that I said this society has historically been a patriarchy. One thing that means is that the most established socially shared notions about pretty much
anything
are men's ideas. To be more specific, cisgender heterosexual men's ideas. Because the viewpoints of other people weren't being spoken in public, weren't being published. So views and attitudes that were really only the views and attitudes of these men got put out there as default views and attitudes. That applies to a
lot
of subjects, but at the moment let's focus on the definition of women.
Top of the list: sexual attractiveness, the desirability quotient, one's value as a sexual commodity. These days we refer to it as the "male gaze" but it used to be discussed as if women's sexual appeal was intrinsic to the women and men were just noticing it. Because "attractive to cis het men" was defaulted, universalized into "attractive". Because women's usefulness in patriarchy was largely constrained to their usefulness as mates to men.
Women may have meant more to each other, and to themselves, but their opinions weren't being enshrined. I wrote earlier of a feminine person's beliefs and attitudes and priorities, personality and behavioral nuances and tastes and so on — all components of her gender identity as a woman. Those are all aspects of the self that a woman may find validation in, may take pride in, but all that has tended to be overshadowed by the focus on sexual desirability, aka sexual desirability as determined by an audience of cis het male people and their appetites.
Why is this relevant to today's gender identity discussion? Because sexual attraction often tends to be "to a body structure". (And that, too, has been culturally emphasized.) In short, sexual orientation has been geared not so much towards what we speak of as gender identity, but to the physical morphology, to shape and contour. So the most emphasized, the most underlined, aspect of what it means to be a woman is to have female curves and contours and the relevant female organs. That shoves beliefs and attitudes and priorities, personality and behavioral nuances and tastes, etc, into the background.
Someone in a Facebook group posted a meme stating "It's not sex change, it's gender-affirming surgery". Well, that's wrong. It's not gender-affirming surgery, its SEX-affirming surgery. If a person's gender identity as a woman is 100% valid whether they have a penis or a vagina, then obtaining surgical services to modify their physical structure so that any visual observers will assign it "vagina" doesn't affirm their gender. It affirms their SEX, as female.
Of course, being attractive to the heterosexual male gaze really is central to some people's sense of their feminine identity. It's what's most emotionally important to them about being a woman, as opposed to singing alto arias or becoming a really good seamstress or something. Nothing wrong with that.
But not everyone who identifies as woman or femme or girl is primarily concerned with appealing to the male gaze. Of having a sexually desirable appearance as filtered through the fakely universalized male gaze.
The centrality of the whole "do you look sexy, can you compete with the sexy women of the world in sexy appearance?" question is often used to invalidate feminine people. It is used to invalidate many cis women for whom it simply isn't the end-all and be-all of their self-worth. It is used to invalidate many trans women for whom being evaluated in terms of how well they "pass" as a sexually desirable specimen gets to be old and tiresome.
Well, it is
also
used to invalidate the identity of people like me, who definitively do not identify as female, who do not transition, who do not attempt to present as female-bodied people, who distinguish between physical sex and gender and identify as male women, male femmes, male girls.
I get a lot of pushback about it. People who say "It's nobody's business what you got in your underpants" when what they
really
mean is "You've got no business having that attitude of 'yeah I'm male, so what', that's the wrong attitude about your male parts, we're all supposed to be going around saying 'it doesn't matter'". But what actually doesn't matter to me is being found sexy in that sense. Sexy to the falsely universal male gaze. I
am
male. Sure I want to be found sexy... to people who specifically like the
male
physical morphology. Since that's the morphology I've got. And I'm a male girl. My gender-atypical identity doesn't have a damn thing to do with claiming femaleness, regardless of whether
yours
does or not.
———————
You're secluded in quarantine, and all the performances and events have been cancelled, so it's a good time to read a book!
My book,
GenderQueer: A Story From a Different Closet
, has been published by Sunstone Press. It is
available on Amazon
and
Barnes & Noble in paperback and ebook,
and as ebook only from
Apple
,
Kobo
, and directly from
Sunstone Press
themselves.
Links to published reviews and comments are listed on my
Home Page
———————
This LiveJournal blog is echoed on
DreamWidth
,
WordPress
, and
Blogger
. Please friend/link me from any of those environments on which you have an account.
————————
Index of all Blog Posts